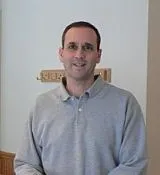 Dr. Kenneth Passero graduated from the New York Chiropractic College in 1986. He did his undergraduate work at Fairfield University where he graduated with a Bachelor of Science Degree in Biology in 1983. He received a Master of Science Degree in Biology/Nutrition from the University of Bridgeport in 1990. He has been a Certified Chiropractic Sports Physican since 1988.
Dr. Passero has lived in Norwalk since he was 10 years old. He is a very active member of his community. He coached little league baseball, basketball and soccer in Norwalk from 1987 through 2011.
Dr. Passero was also very involved in the community through the Norwalk Kiwanis Club. He was a member of the club from 1988 to 2018. He served as club President in 1991 and 2000. He was a member of the board of directors for 27 consecutive years.
Dr. Passero has also been a member of the Norwalk Catholic Club for 19 years. He served as President in 2009.
When Dr. Passero is not in his office he will most likely be found on the fairways of The Shorehaven Golf Club where he served on the board of directors as the club secretary from 2014-2018. He is an avid golfer. He stays fit by doing the stairmaster and lifting weights at the LA Fitness just down the road from his house. As he has often said, nobody wants to hear that they need to lose weight from an overweight chiropractor.
Dr. Passero and his wife, Ellen, have been married for 35 years. They have three sons, Andy 32, Jake, 30 and Billy, 26 and now have two grandchildren, Henry and Bailey, both born in 2022.